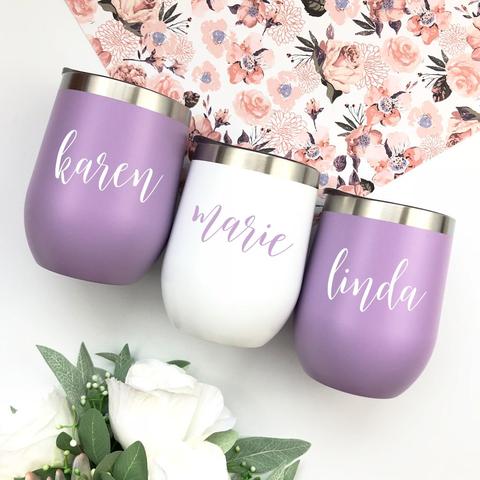 Looking for unique bridesmaid gift ideas? Well, here's the perfect place! Check out this online shop for adorable bridesmaid, bachelorette, and wedding favor gift ideas.
Being a bride can be an amazingly overwhelming job, but Bridesmaid Gifts Boutique makes life easier. Their wide variety of customized items will fit any wedding theme. From bridesmaids to flower girls, this exceptional site has your big day covered!
They have numerous pages of fun gift ideas, check out the stemless wine cups. They looked like a cute, fun, yet classy item to start with. These stylish personalized items come well packaged within a few days of ordering. The matte black wine cup in metallic rose gold lettering is stylish to say the least. Matte black is trendy, but these adorable cups come in several other colors like glossy white, lilac, mint, and rose gold. And there are even more popular text colors for you to choose from!
Due to their vacuum insulated technology, these 12 ounce stemless wine cups are not only perfect for sipping wine by the pool on a hot day, but make for great coffee cups too. Hot or cold, these delightful cups keep their beverage temperature for up to 3 hours warm and 9 hours cold. And my personal favorite part, they're sweat free, so no annoying sweat rings on hot summer days!
Bridesmaid Gifts Boutique is great with their fabulously unique favors. So, head over to their online shop and take a look for yourself! You certainly won't be disappointed. And if you're looking for groomsmen gifts, check out Groovy Guy Gifts for even more unique wedding favors.