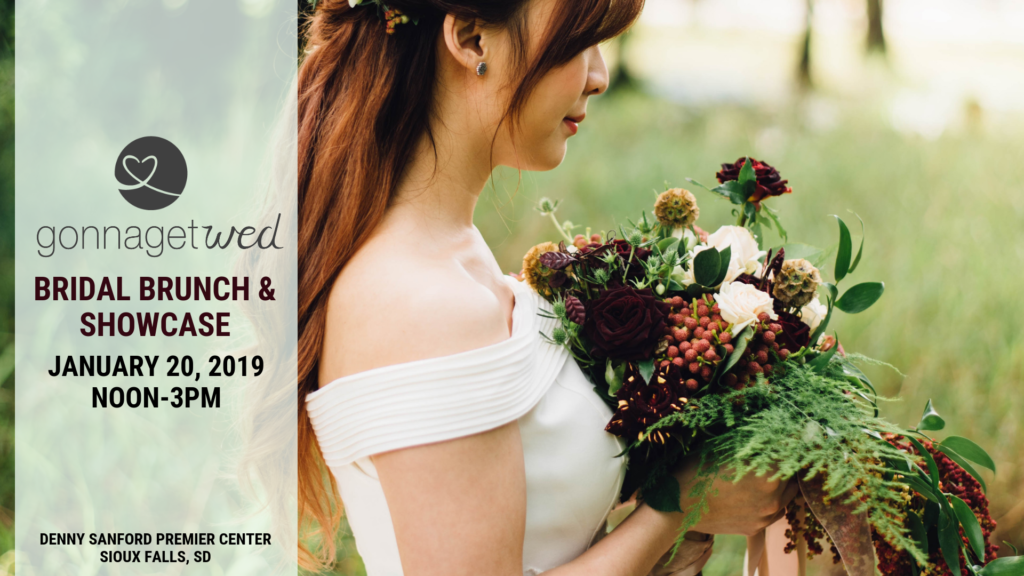 The January 20, 2019 GGW Bridal Brunch & Showcase is just around the corner! Get tickets HERE!
The GonnaGetWed Bridal Brunch & Showcase is Sioux Falls #1 Bridal Showcase!
Sioux Falls #1 Bridal Showcase! With not only a grand venue, but the highest attendance of brides & professionals,
the GonnaGetWed Bridal Showcase is proud to be the largest and only nationally-accredited bridal show in South Dakota.
Looking for inspiration, personal attention and the ability to visit many vendors in one convenient location? We have 60-100 of the finest bridal professionals all under one roof, ready to meet you.
• Talk face to face with all types of bridal industry professionals from venues to travel agents, DJ's and catering, printers and hairstylists and so much more…Brides are able to book right on the spot!
• Get loads of ideas and inspiration for planning your dream wedding
• Win prizes (like our Extreme Wedding Giveaway–worth over $7,000)
• Get free gifts (including the GGW wedding planner) and many, many discounts
• Taste food from many caterers & cake designers, all in one place!
BRIDE BRUNCH: (Tickets $15 and include the showcase)
Our Brunch starts at 10am (doors open at 9am)
Join us and dine on a delicious brunch & drinks while enjoying expert presentations from area bridal professionals. Learn tips and tricks for planning your wedding! (Presenters from 10am-11:30, brunch tasting at 11:30.)
***Tickets must be purchased in advance for Brunch***
EVERY BRIDE AT THE BRUNCH WILL RECEIVE: Free Wedding Planner, $200 photo print credit, 3 day/2 night resort certificate ($349 value) and a chance to win hourly prizes including the $7,000 Extreme wedding package! One lucky Brunch Bride will receive a large cash prize!

BRIDAL SHOWCASE: (Tickets $10) 12noon-3pm
Visit with 60-100 of the finest bridal professionals under one roof! Brides are able to book right on the spot!
Come early and get in line! Doors open at 9am. Bring your Groom & Guests! Brides that bring their grooms get double entries for the door prizes and an additional entry to the door prizes for each guest they bring!
***Tickets can be purchased at the door***
GRAND PRIZE: The Extreme Wedding Giveaway is worth nearly $7,000 in prizes! This package will be drawn at the end of the show at 2:45pm, brides need not be present to win.
Many thanks to our awesome sponsors who you will meet and get great tips and tricks from at the Brunch…