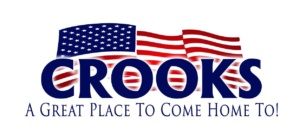 701 S West Ave Crooks, SD 57020
How to find us:
Take the Renner Crooks exit off I-29 go 2 miles west and 1/2 mile north.
Tobias Schantz / Lois Klabunde
phone: 605.543.5238
The Crooks Community Center offers an affordable, yet elegant, event for the bride on a budget. Only 10 minutes from Sioux Falls, our spacious facility seats 250 and offers a special rate on 3 day rentals. A full kitchen is available for do-it yourself or professional catering.