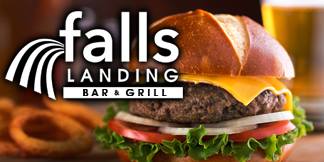 How to find us:
200 E 8th St
Sioux Falls, SD 57103
Phone: 605.336.2290
Located on the East Bank of the Big Sioux River, Downtown Sioux Falls
Get Directions
Falls Landing boasts great service, food, and cocktails. Relax on our beautiful patio located on the River Greenway. This downtown location is ideal for celebration gatherings. The available private room is
perfect for rehearsal dinners, small receptions, and bridal parties. Guests can even stay at the attached Country Inn & Suites. Our experienced staff is ready to serve you. Call to schedule today.